Published 2012-04-29
Should I lift the dirt and plant the seed

Even though I'll never grow

Should I wet the ground with the sweat from my brow

And believe in my good work

My good work

My good work

My good work

– Victory Dance, My Morning Jacket
As a kid, I may have broken unofficial records for taking swimming lessons for the most consecutive summers without ever finishing. The failure to complete the things I begin has dogged me through much of my 36 ½ years on this earth, save for certain situations – the deadline, which was an every day occurrence in my chosen field of journalism.
The hidden aspect of never graduating from summer swimming lessons is that no one ever told me that I can swim. I never received that certificate to hang on the refrigerator – today's version of the participation ribbon.
Now does that mean I stayed away from pools and lakes, not a chance. I could jump in and make it work, but I always wondered if I was "doing it right," whatever that means. I just tried to make it work.
That's the approach I've taken to web development. I've never consider myself a "web developer" – again, whatever that means – though I have been able to make creations that appear on the internet and make them work.
Then a funny thing happened this week at Startup Weekend Madison. One of my teammates on BushwhackApps called me a developer. And I have to say I smiled a pretty large smile.
We're born into, raise and eduction in, and work in a society that is based on – rather craves – peer recognition and social cues that are used to determine one's place in a group.
Some are able to overcome it or burst through based on self confidence – deserved or manufactured – while others check themselves against their peers. Me, I haven't thought in a while about what I do. But to have someone who is a developer consider me a peer, well that really meant a lot… more than words could ever really.
And that I guess gives me all the more reason to try and use this space to share what I have learned, and explain how I learned it and who I learned it from. Because without that – without a sense of peers who will challenge you to do better, you're off in a boat rowing through knowledge about a subject and ready to move on.
This weekend I was part of a team that was named first place winner of the first Startup Weekend to take place in Madison, which is a really great feeling and brings some publicity, and brings so many opportunities to mention, not the least of which is being able to work with a team of people that through 54 hours remained focused on the next step in the process – and the journey of learning – as opposed to an end result.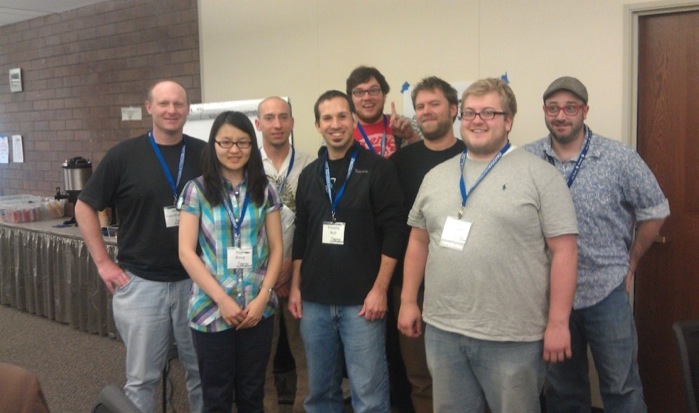 What's more important to me though right now as I write this was the convergence of individuals and places that were landmarks for me in my own journey of learning if you will.
The event was held at Madison College, which I attended when it was known as Madison Area Technical College – though not this campus – straight out of high school when I didn't have a clue about life, other than the fact that I wanted to be a sportswriter.
I sat next to and learned so much from a student at the University of Stevens Point, where I studied after MATC before dropping out to go pro in the journalism draft – aka reading the want-ads – after I figured I spent enough time working in campus media.
A key member of our team – handling business development and opportunities – is from Prairie du Sac, Wis., one of the two communities that make up Sauk Prairie, the community I worked in as sports editor and then editor between 2002 to 2005. Incidentally I was the second choice for the sports editor position, but something fell into place, and once I had the job I wasn't going to stop working.
And our team leader was – as of four months ago – a colleague in the online department at madison.com, and a great person to learn from the ins and outs of developing an idea from germination to well-rounded, well-fertilized plan.
And after learning of our success, we retired to an bar I used to frequent with co-workers after the bookstore we all worked at closed back in 2001.
But the I think the most inspirational convergence of the weekend was seeing Trina Chiasson and Erik Paulson walk in to the conference room on Friday evening.
I first met Trina in October 2010 at a Media Consortium hackathon in Chicago. We later were at the same table dreaming ideas for the Knight-Mozilla Open News Challenge during a May 2011 Hacks/Hackers event in Chicago, which led to both of us being selected for the Knight-Mozilla Journalism Learning Lab last summer, and then a trip to Berlin, Germany for a Knight-Mozilla sponsored hackathon.
I met Erik at the 2012 edition of NICAR in St. Louis back in February and had several great conversations. He was instrumental in building an election results scraper of the Dane County Clerk's website that we used at the beginning of this month to power a results widget.
All of this is to say there are times in life where you know the path you are on is pretty OK. I think I'm getting to be comfortable knowing – hoping? – I'm at one of those places.